close
favoriteFavorite (

0

)

Search engine

My points of interest (

0

)
My Guides (

0

)

Lieux et Activités

Cafés et Bars

Restaurants

Balades et Itinéraires

Boutiques et Magasins

Autour de ...

Autres thématiques

Multilingual
Français
English
Deutsch
Español
Nederlands
中文
svenska
Português
Türk
Polskie
日本人
Ελληνικά
مصر العربية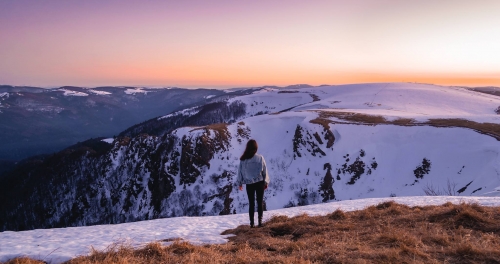 Le Massif des Vosges, entre la Lorraine et la plaine d'Alsace, est un massif montagneux du Nord-Est de la France. Le plus haut sommet est le Grand Ballon, avec ses 1 424 mètres d'altitude. Les Vosges comptent également de nombreux lacs, qui raviront les amoureux de la nature. Partez à la découverte des points de vue à couper le souffle des Vosges et de l'Alsace, grâce à notre sélection de balades et randonnées. Vous retrouverez notamment : - La route des Crêtes et l'ascension du Hohneck, le 3ème sommet des Vosges, pour profiter de la vue sur les vallées vosgiennes et alsaciennes. - Le circuit du Tour des Lacs : une randonnée incontournable qui vous permettra de découvrir notamment le Lac des Truites, le Lac Noir, le Lac Blanc et le Rocher du Hans, mais aussi les chaumes et cirques glaciaires ainsi que la faune dans cette réserve naturelle. - Le circuit du Monument Brun au Grand ballon, pour profiter du panorama sur la forêt Noire et même la chaîne des Alpes par temps clair. - Le circuit VTT de l'Oelberg : randonnée facile sur 11,65 km, offrant une superbe vue sur la plaine d'Alsace et la vallée du Florival. - Le parcours VTT La Grande Roche de 7km au départ du col du Brabant jusqu'au monument Notre Dame de la Paix. À vous de choisir vos circuits de randonnées parmi ceux répertoriés ci-dessous !
Do you want to delete the changes ?
clear
Previously filled data will be lost.