close
favoriteFavorite (

0

)

Search engine

My points of interest (

0

)
My Guides (

0

)

Lieux et Activités

Cafés et Bars

Restaurants

Balades et Itinéraires

Boutiques et Magasins

Autour de ...

Autres thématiques

Multilingual
Français
English
Deutsch
Español
Nederlands
中文
svenska
Português
Türk
Polskie
日本人
Ελληνικά
مصر العربية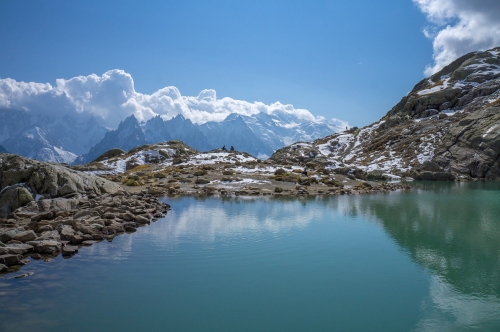 Chamonix, station à 1035 mètres d'altitude située au pied du Mont-Blanc en Haute-Savoie, est réputée pour le charme de la ville, ses pistes de ski et son large panel d'activités outdoor. La vallée de Chamonix est le paradis des alpinistes et randonneurs confirmés ou débutants. Partez en randonnée pédestre ou VTT à la découverte des glaciers et profitez des vues panoramiques sur les sommets, tels que l'Aiguille du Midi ou l'Aiguille Verte. Plusieurs itinéraires s'offrent à vous à Chamonix Mont-Blanc et aux alentours : - Une balade relativement facile de 2h35, allant du Montenvers jusqu'à la gare du Plan de l'Aiguille. Profitez de la vue sur les Aiguilles Rouges, les Aravis et le Mont Blanc. - La balade des Mottets d'une durée de 3h30, offrant une vue imprenable sur les Aiguilles des Drus et la Mer de Glace. - La balade du Glacier des Bossons d'1h20, en partant du chemin du Chens à Chamonix. - Un parcours relativement facile d'1h30 en VTT, depuis le centre de Chamonix jusqu'aux Tines, en empruntant les sentiers du bois de Bouchet. Découvrez le reste des sentiers ci-dessous, avec notre sélection de restaurants !
Do you want to delete the changes ?
clear
Previously filled data will be lost.